PlasmaFLASH
PlasmaFLASH

is a machine for controlled surface heat treatment used for re-crystallisation of surface martensite after wire shaving.

PlasmaFLASH is successfully used for heat treatment of undesired surface martenzite. The machine was designed as a simple and cost efficient alternative to patenting, traditional used for dealing with martensitic surface layer.

Shaving is commonly used for descaling of spring wire. Shaving causes a thin layer of martenzite that forms on the wire surface. This is an undesired form of steel that makes further drawing virtually impossible. The traditional process for removal of martensite from the surface involves patenting followed by chemical pickling (see picture below).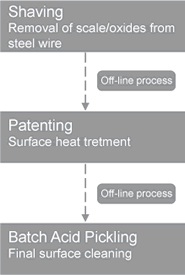 PlasmaFLASH can be used as an efficient method to re-crystallise surface martensite. The PlasmaFLASH machine can be installed in-line with the shaving process and takes small space in length (about one meter).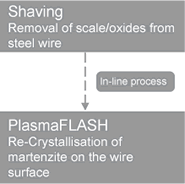 PlasmaFLASH offers considerable reduction in process and material manipulation as a result of inline process set up.